Topic review (newest first)
Day_dreamer

17 Jan, 2013 10:27 am
Don't worry my young sibling. You shall get to play Okamiden as soon as I'm finished.........XD
pit0010

16 Jan, 2013 6:31 pm
Sarru wrote:

Wait...what does her older brother have to do with anything? xD
The only mention I see of him is that he gave her the DS she has...
OHH! So dah sorrow!

I didn't read properly (facepalm)
I thought he gave the ds to his older brother LOL



....


...

ahem...


Try and get 'Ghost Trick'. Apparently it's REALLY good.
Or...get a 3ds..LOL
xGJx

06 Jan, 2013 1:06 am
Haha I had a DS ages ago. You can pretty much get any Mario game, because they're all fun. And games like Lost in Blue and Drawn to Life are also fun
AcidGamer64

03 Jan, 2013 5:21 pm
I would suggest either Sonic Classic Collection (Only if you don't already own most of the classic Sonic games) or Sonic Colors. Most definitely Sonic Colors!
red*rogue

15 Dec, 2012 8:59 am
Stylus Zelda games were boring indeed!

A good visual novel is
9 hours 9 persons 9 doors
Possibly one of the very best games I have ever played! And without a doubt the best NintendoDS game out there. I started playing it at 00:00 and dared to put my DS down at 3:00am because it is so...

The storywriter behind it is a GENIUS.

It's about 9 people who have to escape a sinking titanic replica in 9 hours by going through 9 doors hidden in the ship.
As part of some kind of experiment.
People start dying and the end you don't know who you can trust to survive.
So epic hngh <3

Phoenix Wright is also a good game where you play a defense attorney. You have to protect the weirdest clients, cross examine the weirdest witnesses, find evidence and convince the judge of your case.

Second best game!

Elite Beat Agents.
Tap the screen on the rythm of the music.
With Queen and Rolling Stones. The game's so underrated.

Like Pit recommended: Professor Layton.

Final Fantasy is a cool RPG you can put a LOT of hours in it. Each game has a story of it's own and you don't have to play the previous games.
sweetlove15

09 Dec, 2012 12:25 am
pit0010 wrote:

[firstly...that game above..is actually are really good game I have played it and all of the items that you need to fine is soo hard! PLUS! the ending is such a good twist!
I started to play it at like 2am today. You're right the items are so hard to find! And I put it rookie mode Dx
It seems okay so far. I'm stuck at the moment on it though lol
Sarru

08 Dec, 2012 8:11 pm
Wait...what does her older brother have to do with anything? xD
The only mention I see of him is that he gave her the DS she has...
pit0010

08 Dec, 2012 3:05 pm
I know what yah saying when it comes to zelda

But you know me...I prefer Twilight Princess over the zelda games I have played.

But if it's art_attack's older bro...we never know if he likes zelda games or not...
Sarru

08 Dec, 2012 1:09 pm
I didn't like either of DS Zelda games because...
I don't like using the stylus.
I also, in particular, thought trains in a Zelda game were stupid.
It's no fun having an overworld or "hub" that you can't actually explore IMO.
And the boat was more or less the same thing in Phantom Hourglass, just not on rails.
It was like a Final Fantasy overworld where it's more or less a giant map you travel on rather than an actual location.
I just...really didn't find anything about the games enjoyable.
The characters, the environment, the dungeons, the bosses, etc.
pit0010

08 Dec, 2012 4:20 am
Hehehe! The owner of ze NINTENDO FANCLUB is ze here


BTW....by now...most DS games are under $25. You can get preowned ones?


firstly...that game above..is actually are really good game
I have played it and all of the items that you need to fine is soo hard! PLUS! the ending is such a good twist!


The professor layton series is a MUST GET.
Mario games are sweet as. Get New super mario bros and mario kart. MUST HAVE!! MUST MUST MUST...but if you really want mystery..that won't work

Kirby squeak squad is also very good and cute for kirby lovers! *not mystery*

If yah a legend of zelda fan...Spirit tracks or phantom hourglass *for me...i recommend spirit tracks* *mystery...puzzle...adventure*

Pokemon games *I don't know much about them because I actually never played a single one before...* BUT! I have read very good reviews on them.

Another good game is Drawn to Life (1 and 2) Very unique style *mystery..ish...adventure...*
A similar one to that is Scribblenauts. *so not mystery*

A MUSIC game is Rhythm Heaven. Pretty neat and the tunes are soo catchy. *of course not a mystery thing*

Final fantasy? *never played them but apparently is good*

And my last recommendation...Animal Crossing World Wide
* not mystery

OH WAIT!...apparently ghost trick is really good. I wanna get it. But there wasn't any in my EB games store. *Mystery*

Remember...Most mystery games are...NOT GOOD AT ALL. So before what you get.
Games that I noted up there that are not mystery have been given a really great rating.
sweetlove15

07 Dec, 2012 10:51 pm
I mostly used my DS for word games/puzzles and sudoku. I know, I'm so cool right Dx

I could have a look through my old games later, or my brothers old ones. I know he has hundreds of them.

You might enjoy this mystery game: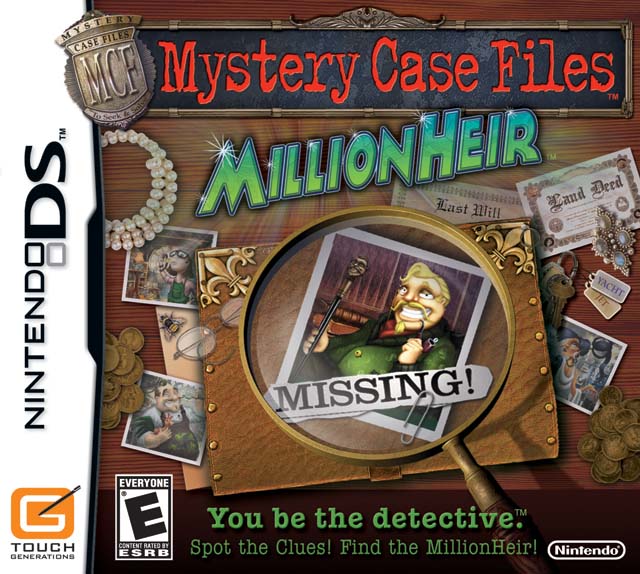 I got it years ago and never played it much so I can't really say if it was good or not, but you said you like mystery games so maybe it's worth checking out?
art_attack

07 Dec, 2012 10:41 pm
Oooh! Thanks guys!

Sarru, why didn't you like the Link games? I remember I reallly wanted Pokemon heart gold, I'll have to check it out again.

BumblePeach, thank you for the suggestions! I'mma check them out. Btw, you have a really interesting game selection!


Also, I am growing with curiosity about the Professor Layton series, if any of you guys have played I would love to hear a review on what you think of it.
Bumblepeach

06 Dec, 2012 2:05 pm
I don't think you'd like my kind of games, but I'll list a few anyway.

Yoshi Touch & Go: You use your stylus quite a bit on that game.

Pac-Pix: You use your stylus to draw Pacman, make him move, draw lines to make him change his direction, etc.

Touch Mechanic: You use your stylus as your tool to do body work on vehicles, painting cars, changing car parts, etc.

Hannah Montana: Again you use just your stylus to make her walk, interact with objects, etc.

Theresa: This is a bit of a puzzle game and extremely difficult to figure out. You also use your stylus. It's rated M for mature (not really a game for kids).

Tomb Raider Underworld: You also use your stylus in mini puzzle games and such.

I'll take a peek in my collection to see what other DS games use the stylus.
Sarru

06 Dec, 2012 1:03 pm
Personally I don't like either of the Zelda games for the DS.
Most people seem to like Phantom Hourglass, but far less enjoyed Spirit Tracks.
Both games you rely on the stylus the entire time.

Pokemon games? All of them are good.
I'd recommend Soul Silver/Heart Gold the most though.
It's a remake of the second gen Pokemon games.

As far as other games I could recommend...
Any of the Dragon Quest games on the DS and any of the Final Fantasy games.
They're both Adventure/RPGs...so...yeah.
art_attack

06 Dec, 2012 12:30 pm
Hello peoples! I am looking to get some games for the DS my older brother gave me and my siblings last year. But I honestly have no idea which games are worth the money, and which games are just good games in general.
So if you guys have any favorites for the DS, feel free to post them here!
But keep in mind that if you post that it can't be something too expensive...Like under 25$ ._.

Here are some of the things I like:
I gotta say that one game I REAAALLLY liked was called
Trace Memory, and I would like to find more like it. I saw that there is a sequel, but I can't find it on Amazon.
I really love mystery games, so if you have any of those you really liked, post mystery games especially, please! (There are so many, that again, I have no idea which is a good game)

I really like games where you use the stylus most of the time, but most games just use the stylus screen as a stupid map where you do nothing T_T,

Is the Professor Layton and Toon link series any good?

Pokemon games are OK, but I never know which one to get!!! xD

I also like harvest moon games

Mainly I like adventure games, but puzzle games are pretty fun too.