Topic review (newest first)
santacruiser

07 Dec, 2012 9:27 am
popskip

06 Dec, 2012 12:56 pm
(dA artists are alright, right?)

Suzunosuke



http://tknk.deviantart.com/gallery/



Tama



I would post more but the list would never end...?!
red*rogue

06 Dec, 2012 12:49 pm
Uhm

when I was young:
Tetsuya Nomura



Now:
Tetsuya Nomura
Yoshitaka Amano



Oku Hiroya



Tatsuro Iwamoto (probably one of the best character designs I've ever seen)

Kimsaysrainbow

06 Dec, 2012 12:14 pm
I have a few favorite artists.
First off

♥ Hayao Miyazaki







♥ Lily







♥ Kantoku







♥ Piero







♥ Twinge







♥ Kanzaki Hiro

art_attack

06 Dec, 2012 7:45 am
Teekanne wrote:

I really love Vladimir Kush

http://a3.ec-images.myspacecdn.com/imag … 11a2/l.jpg
http://www.beautifullife.info/wp-conten … /16/16.jpg
Sooo beautiful!! *_*
art_attack

06 Dec, 2012 5:58 am
Hayo Miyazaki, (I like to call him Monkey Man though...Dunno why. :X)

I really like David Wenzel (a children's illustrator); http://www.childrensillustrators.com/il … dT/id=742/ , ever since I was little and read The Hobbit comic book he illustrated for. His people are ok, but I think his landscapes and scenery are gorgeous!

Also Fiona Sansom: http://www.childrensillustrators.com/il … om/id=230/

I really adore children's illustrators, and oneday I would like to become on. I am sure I will find many more illustrators that I love, and so, I will be back!

Also
M.C Escher.
santacruiser

06 Dec, 2012 5:37 am
I've allways looked up to Michael Sowa
beefcake619

06 Dec, 2012 3:46 am
SOOO COOL
keep the art coming!
Teekanne

27 Feb, 2012 11:21 am
I really love Vladimir Kush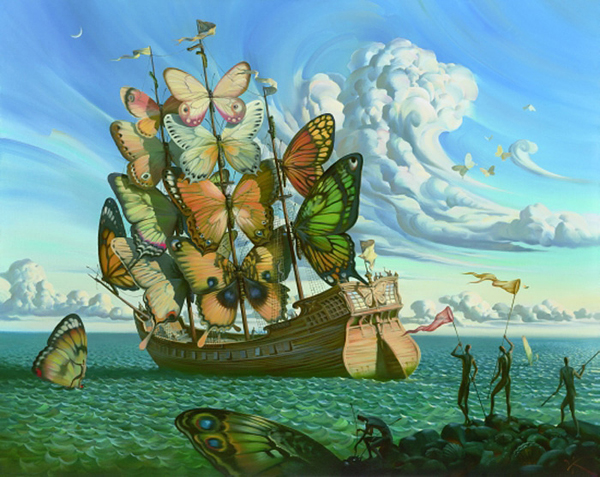 Leizerwulf

19 Nov, 2011 1:39 am
I just found this guy called Zimou tan. Totally awesome. Not a lot of his work is on display in google image, but he has a lot of videos. Just look him up on youtube.
donutluvsart

19 Nov, 2011 1:20 am
Salvador Dali because he was amazing at surrealism, and Michelangelo because he's Italian like me, and he painted the Vatican. (:
beefcake619

18 Nov, 2011 10:54 pm
Kyou-chan

07 Oct, 2011 11:59 pm
Hans Haveron




and Jhonen Vasquez




Also love Dali, Da Vinci and Escher.

EDIT: I completely forgot to mention Howard David Johnson.




I want to be this man. Honestly. I want to die and come back as this man. it actually makes me feel really bad about myself xD
myta

07 Oct, 2011 9:03 pm
22bubble_eyes22 wrote:
He was such a... LEGEND!
This brings back a few memories...
minakoS

07 Oct, 2011 8:53 pm
Alexa Meade

Andy Warhol