Topic review (newest first)
red*rogue

18 Mar, 2013 12:15 am
heh, I got watercolor for my birthday but I didn't dare to touch them.
Afraid I might mess up.
the drawing looks awesome by the way.
and thanks for the link to the tutorial


I have thick paper.
But I'm afraid it might curl up once it gets wet and stuff
pechucky

17 Mar, 2013 6:30 am
There're papers which are suitable for watercoloring. They're called Canson, or Campad, i guess they're sold everywhere, or you can look for them online. This kind of paper is thicker than other normal papers, which makes the watercolor dry faster ( you basically don't have to wait ) and thus enables you to mix the colors perfectly if you're good timing enough
once you get those papers, watercoloring becomes more easier to you, you just need to practice to improve your skill. Learing how to mix the colors is one important skill you can't miss. Here's a tutorial from my fav artist :
http://claparo-sans.deviantart.com/art/ … -122714589
My watercolor drawing (using Canson papers)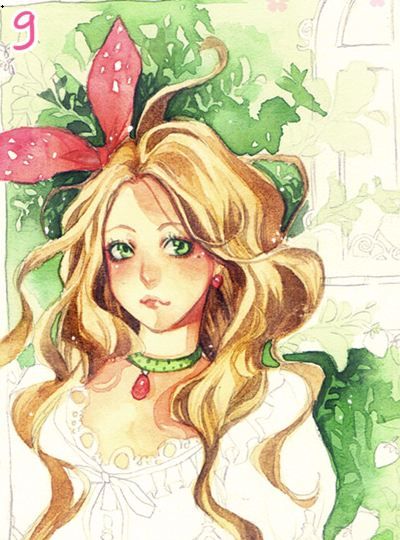 jojosupojo

11 Jan, 2013 2:19 am
Black and white only..so juz pencil or a pen.
jyu viole grace

09 Jan, 2013 4:36 pm
Watercolors dont blend on paper so I usually just make lighter strokes and lighter shades at the beginning. Just make sure to let your paper dry first before adding darker shades
sweetlove15

08 Jan, 2013 9:48 am
I bought some last July. Used them once. Then gave up xD
I will learn how to use them one day.
Ivylia_Nidhyathi

08 Jan, 2013 9:46 am
I love watercolours but I dont really use watercolour paper.
I use bristol board \ illustration board.
Its mainly for wet on dry, but you can wet the surface and go from there.
But because its not textured or absorbant like paper is, if too much is put on it runs.

As for stretching paper. I normally use gum tape which I hate using but I have yet to find another method, but I rarely use paper anyway.

For having too much paint on brush, just have a tissue or sponge in other hand and just wipe off the excess paint.
NT1B

10 Nov, 2012 2:50 am
best way is wait for your first stroke to dry first
agyla

09 Nov, 2012 7:37 am
Wet on wet is where you wet the paper before painting on it. Your edges will be softened. Wet on dry uses dry paper, and your edges will be harder
art_attack

09 Nov, 2012 4:40 am
Oh dangit! I forgot about this thread!! xD

Aphetide! Whadda heck you talkin' about!? It looks amazing! I love how you used purples and yellows to create the skin tone, and the eyes are just beautyfull!!! *_* I love the colors you can do with watercoloooooor! Sadly I haven't done watercolor in quite awhile. ._. I'm so lazy! >_<
Aphetide

28 Oct, 2012 3:47 pm
art_attack

27 Oct, 2012 6:10 am
art_attack

23 Oct, 2012 2:27 am
art_attack

20 Oct, 2012 8:22 pm
Pooo! D: For some reason the link takes me to gmail and says "We're sorry, but your Gmail account is temporarily unavailable" (when I go to gmail by another link gmail is working fine o.e)
Aphetide

20 Oct, 2012 3:58 pm
I love pan watercolors ;u; The one's in tubes are hard to use cause I suck OTL

my ugleh painting ;u;
art_attack

20 Oct, 2012 6:00 am
@Agyla Hmmm, what are the main differences between wet on wet and wet on dry? Do you only use the wetting paper process if you are doing wet on dry? (Sorry, like I said I am quite new to this and don't quite know the basics. Plus Google isn't really helping! T_T) Also, the picture didn't work!
It said the content is currently unavailable

@Aphetide! Hahaha I know how you feel! I didn't even know how watercolor pencils worked until my sister told me earlier today (I thought they were just pencils with lighter more pastel colors ._.) And oh puh-leaaaze! You're just being silly! I wannaa seeee itt!


Aaahhh! I happened to mention to one of the customer's at the place where I volunteer at that I recently started experimenting with watercolor and half an hour later she came back and gave me some water colors (including pan watercolors, yay!!!
) I didn't have any time to take a picture of my doodle paintings. (scanner is acting up boo!)